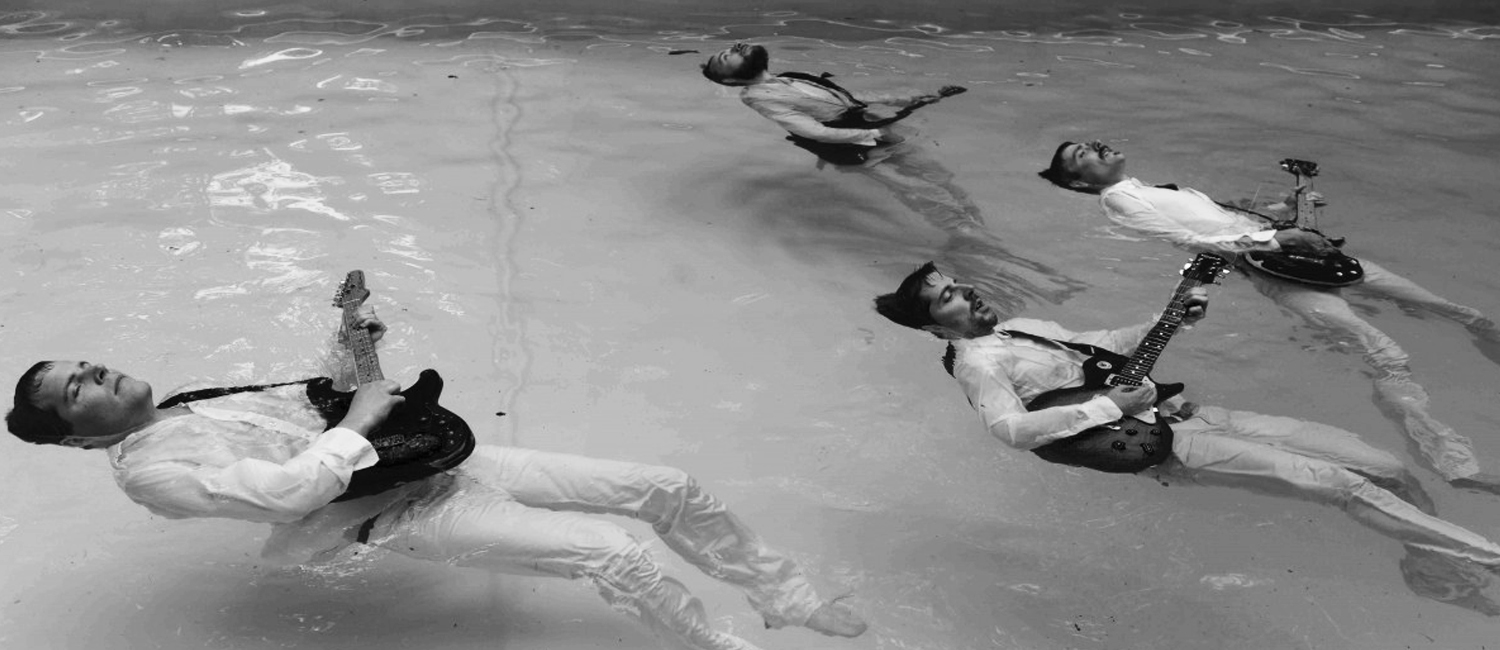 Zwerm : Our Ears Felt Like Canyons II
Triptyque sonore pour 4 guitares électriques et 3 compositeurs
Sous la direction artistique de Kobe Van Cauwenberghe
Ce projet prend la suite du concert 'Our Ears Felt Like Canyons', dans lequel le quartet de guitares Zwerm proposait une interprétation toute littérale du concept d'écoute acousmatique de Pierre Schaeffer, en plaçant les guitaristes derrière un rideau rendus ainsi invisibles au public. Pour ce second volet, il joue avec une nouvelle notion musicale, celle du 'cut acousmatic' : un dispositif sonore spécifique sera créé visant à exacerber certains vieux antagonismes – son acoustique vs son électrique, son naturel vs son transformé –, comme d'autres plus naissants – réalité (diminuée) vs réalité augmentée. La scénographique prolongera ce jeu, avec un contraste radical de lumières faisant jour ou obscurité complète, augmentant ainsi le caractère immersif du dispositif.
Chacun des trois compositeurs invités, Shiva Feshareki, Marko Ciciliani et Stephen O'Malley développera son propre point de vue sur le processus d'électrification, pour créer des sculptures de sons plongeant le public dans une écoute totale et immersive.
Au terme de plusieurs sessions de création en résidence entre 2020 et 2021, Our Ears Felt Like Canyons proposera trois nouvelles compositions, envisagées comme autant d'angles d'approche sur l'écoute et la perception du son. Si ces dernières années, la tendance est à la présence croissante du visuel dans les performances musicales, Zwerm et La Muse en Circuit prennent, au travers de ce projet, le parti-pris opposé : une performance où le son prend le pas sur les interprètes. Une manière de mieux questionner l'écoute dans un monde dominé par les sollicitations visuelles.
> site Internet du Zwerm Quartet
---
DISTRIBUTION
Kobe Van Cauwenberghe – direction artistique, guitariste
Toon Callier, Johannes Westendorp, Bruno Nelissen – guitaristes
Shiva Feshareki, Marko Ciciliani, Stephen O'Malley – compositeurss
Lucas Van Haesbroeck – lumière et scénographie
Camille Lezer – ingénieur du son
Production déléguée : La Muse en Circuit
---
EN RÉSIDENCE

du 29/03 au 02/04/20 La Muse en Circuit, Paris
du 11 au 17/04/21 La Muse en Circuit, Paris
---
AGENDA

17/04/21  Muziekcentrum de Bijloke, Ghent (Belgique)
10/05/21  Spor Festival, Aarhus (Danemark)
19/10/21  Transit Festival, Leuven (Belgique)
10/11/21  November Music, Den Bosch (Pays-Bas)
à venir  Music Biennale, Zagreb (Croatie)
Sonic 'triptych' of works written for 4 electric guitars and 3 composers

Artistic Project Direction: Kobe Van Cauwenberghe
Second instalment of a concert-project called 'Our Ears Felt Like Canyons'. With this project, Electric guitar quartet Zwerm continues to develop a sonic 'triptych' of works within a specific listening environment. Where the first edition translated Pierre Schaeffer's concept of 'acousmatic listening' quite literally by 'hiding' the musicians behind a curtain, this second edition will displace the acousmatic 'cut' by diffusing the electrified sound through a specific installation, emphasizing the very extremes of acoustic versus electrified sound, non-processed versus processed, reality versus augmented reality. Regardless of where you are seated, standing or lying, the immersion is complete and personalized. Enhanced by an adapted staging that carefully shifts between light and darkness, seeing and not seeing.
Zwerm invited composers Shiva Feshareki, Marko Ciciliani and Stephen O'Malley to write new pieces, each showing a unique perspective on electrified and processed sound. In order to facilitate the idea of an enhanced listening experience, Zwerm will again closely collaborate with light- and set designer Lucas Van Haesbroeck. Although the musicians this time won't be literally 'hidden' behind a curtain, there will be a specific staging playing with light and visibility, occasionally obscuring the entire hall and thus further enhancing the immersive environment.
The final result of "Our Ears Felt Like Canyons II" will present three new compositions for electric guitar quartet, not so much as a traditional concert, but more like sound sculptures or "sonic tableaux", with the initial desire to create a "pure" sound performance in which performers and listeners can disappear, the sound becoming almost palpable. Especially in newly composed music of the last few years a clear trend emerged that emphasizes the visual aspects in a music performance. Zwerm Quartet and La Muse en Circuit choose the opposite path: a room full of music and performers that are hidden so to speak behind Pythagoras' curtain. This way we hope to achieve an immersive concert experience that questions our auditive perception in a world dominated by visual impulses.
---
DISTRIBUTION
Kobe Van Cauwenberghe – guitarist, artistic direction guitarist
Toon Callier, Johannes Westendorp, Bruno Nelissen – guitarists
Shiva Feshareki, Marko Ciciliani, Stephen O'Malley – composers
Lucas Van Haesbroeck – light and stage design
Camille Lezer – sound design
Producer : La Muse en Circuit
---
REHEARSALS

from 29/03 to 02/04/20 La Muse en Circuit, Paris
from 11 to 17/04/21 La Muse en Circuit, Paris
---
AGENDA
17/04/21 Muziekcentrum de Bijloke, Ghent (Belgium)
10/05/21 Spor Festival, Aarhus (Denmark)
19/10/21 Transit Festival, Leuven (Belgium)
10/11/21 November Music, Den Bosch (Netherlands)
Unknown date Music Biennale, Zagreb (Croatia)