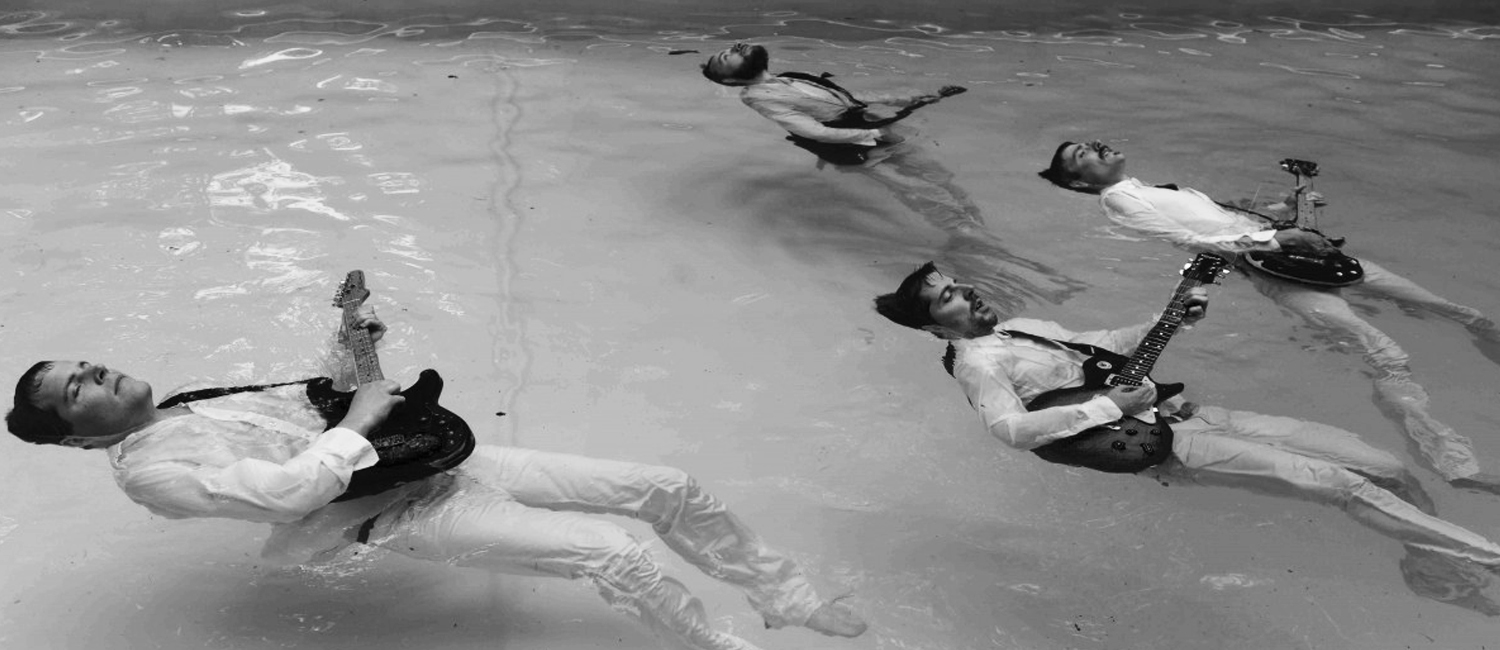 'Our Ears Felt Like Canyons II'
Zwerm, Shiva Feshareki & Stephen O'Malley

Sous la direction artistique de Kobe Van Cauwenberghe
Ce projet prend la suite du concert 'Our Ears Felt Like Canyons', dans lequel le quartet de guitares Zwerm proposait une interprétation toute littérale du concept d'écoute acousmatique de Pierre Schaeffer, en plaçant les guitaristes derrière un rideau rendus ainsi invisibles au public. Pour ce second volet, il joue avec une nouvelle notion musicale, celle du 'cut acousmatic' : un dispositif sonore spécifique visant à exacerber certains vieux antagonismes – son acoustique vs son électrique, son naturel vs son transformé –, comme d'autres plus naissants – réalité (diminuée) vs réalité augmentée. La scénographique prolongera ce jeu, avec un contraste radical de lumières faisant jour ou obscurité complète, augmentant ainsi le caractère immersif du dispositif.
Les compositeurs invités, Shiva Feshareki et Stephen O'Malley, développeront leur propre point de vue sur le processus d'électrification, pour créer des sculptures de sons plongeant le public dans une écoute totale et immersive.
Au terme de plusieurs sessions de création en résidence entre 2020 et 2021, Our Ears Felt Like Canyons proposera de nouvelles compositions, envisagées comme autant d'angles d'approche sur l'écoute et la perception du son. Si ces dernières années, la tendance est à la présence croissante du visuel dans les performances musicales, Zwerm prend, au travers de ce projet, le parti-pris opposé : une performance où le son prend le pas sur les interprètes. Une manière de mieux questionner l'écoute dans un monde dominé par les sollicitations visuelles.
> site Internet du Zwerm Quartet
---
DISTRIBUTION
Kobe Van Cauwenberghe – direction artistique, guitariste
Toon Callier, Johannes Westendorp, Bruno Nelissen – guitaristes
Shiva Feshareki & Stephen O'Malley – compositeurs
Lucas Van Haesbroeck – lumière et scénographie
Camille Lezer – ingénieur du son
Production déléguée : La Muse en Circuit – CNCM
---
AGENDA

6 mai 2022 | Festival Van Vlaanderen, Mechelen/Kempen (Belgique)
23 & 24 avril 2021  | Spor Festival, Aarhus (Danemark)
17 avril 2021 | Muziekcentrum de Bijloke, Gand (Belgique)
21 janvier 2021 | Concert de sortie de résidence dans le cadre des MuseInSitu | La Muse en Circuit, Paris
---
Zwerm, Shiva Feshareki & Stephen O'Malley
Artistic Project Direction: Kobe Van Cauwenberghe
In this second instalment of Our Ears Felt Like Canyons, Zwerm will create a new set of works written for a specific listening environment. Where the first edition translated Pierre Schaeffer's concept of 'acousmatic listening' quite literally by 'hiding' the musicians behind a curtain, this second edition will displace the acousmatic 'cut' in two opposing ways: The electrified sound is diffused through the intimate set-up of personal headphones as well as made palpable in the physical space of the room.
Shiva Feshareki's Seismic Ochestra is a highly sensory composition that is performed and experienced through a deep listening and physical process, connecting intrinsically to all our senses, our perceptions, and how this is interconnected with our experience of environment and beyond. In contrast, Stephen O'Malley's new piece Avaeken displays beating phenomena of precise harmonics in the space of the room allowing rhythm and structure to move around the space, exciting the air and bodies present in a physical way, spinning and moving, with calm, contemplative control and vital energy.
Although radically different in their sonic diffusion, both compositions connect the listening experience with the sense of touch. Enhanced by an adapted staging that carefully shifts between light and darkness, Our Ears Felt Like Canyons II explores these different modes of listening using either headphones or the physical space as an extension of the human body. Kind of like Kurt Vonnegut's description of harmoniums on the planet of Mercury:
The planet Mercury sings like a crystal goblet. It sings all the time.
Mercury has no atmosphere, so the song it sings is for the sense of touch.
The song is a slow one.
There are creatures in the deep caves of Mercury.
The song their planet sings is important to them, for the creatures are nourished by vibrations.
The creatures cling to the singing walls of their caves.
In that way, they eat the song of Mercury.
The creatures have only one sense: touch.
They are called harmoniums.
K. Vonnegut, The Sirens of Titan
---
---
DISTRIBUTION
Concept & Development: Kobe Van Cauwenberghe, Zwerm & Lucas Van Haesbroeck
Live music: Zwerm (Toon Callier, Kobe Van Cauwenberghe, Johannes Westendorp & Matthias Koole)
Composition: Shiva Feshareki, Stephen O'Malley
Headphone-intervention: David Helbich
Sound design & Sound engineer: Camille Lezer, La Muse en Circuit
Scenography & Light design: Lucas Van Haesbroeck.
Production: Zwerm in collaboration with La Muse en Circuit and Muziekcentrum De Bijloke.
---
AGENDA
6 mai 2022 | Festival Van Vlaanderen, Mechelen/Kempen (Belgique)
23 & 24 April 2021 | Spor Festival, Aarhus (Denmark)
17 Avril 2021 | Muziekcentrum of Bijloke, Ghent (Belgium)
21 January 2021 | MuseInSitu | La Muse en Circuit, Paris (France)