Henry Fourès, Elisabeth Gutjahr
Little staged trafic for eight speakers, musicians, two recorded comedians and a juggler.
The limits of my language mean the limits of my own world.
Wittgenstein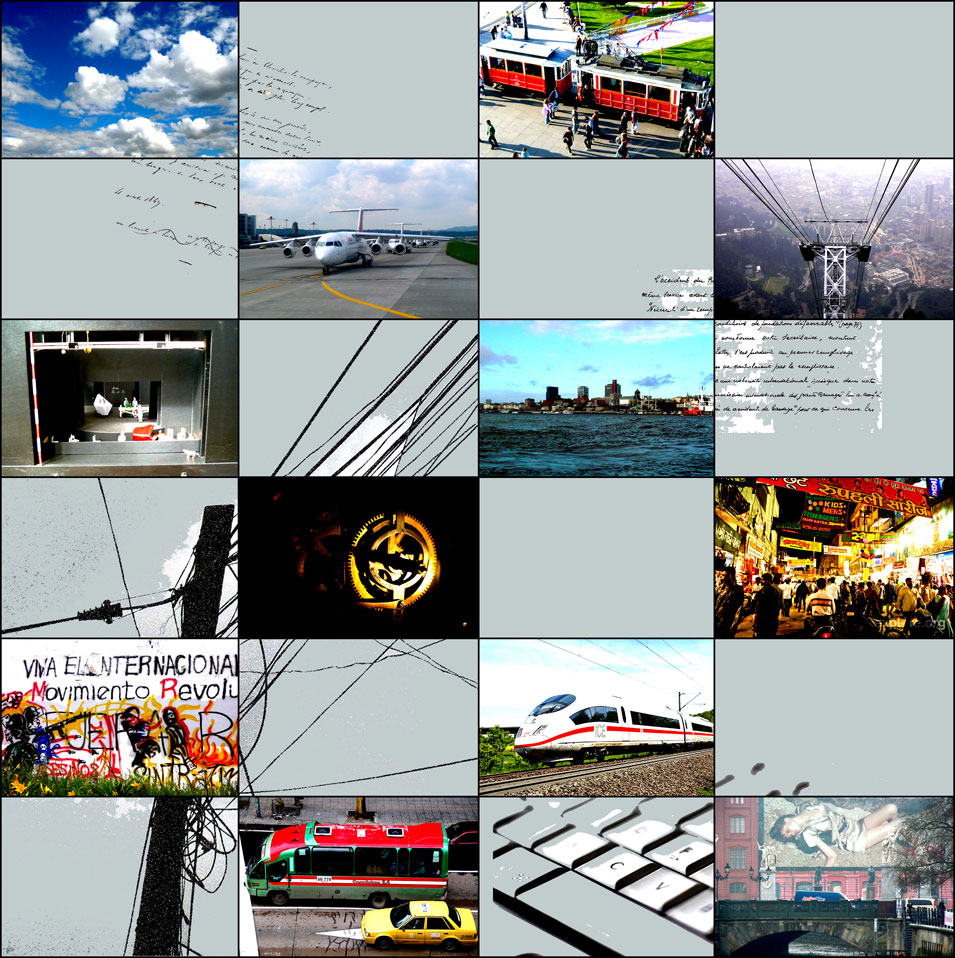 From their various exchanges composer Henry Fourès and German playwright Elisabeth Gutjahr draw an acoustic tale.
A game of listening where one's language faces the other one's and acts as a catalyst. A scenography built on jugglery was then added to the music.
The idea of an installation including radio writing about the idea of "correspondence" into composition is to be understood as an acoustic adventure, which finds its depth in the innocence of a game where meaning builds up, come undone, loses its way in the drawing of a landscape as a sound palimpsest.
Speech is stretched out, broken, reflected on, amplified, concentrated in the singular space of a moment seen as a possibility between two tales.
In this correspondence, roles are multiple. Who is speaking, listening, reading, writing? Is the listener hearing the author or the reader? What do "understand" and "correspond" mean?
Jugglery doesn't "interpret", doesn't "comment" with gesture, it is not based music. It occurs in sequences, like poetic "translations",
Jugglery doesn't "interpret" nor "comment", it is not "based on", but occurs in sequences, as a poetic translation operation through shifts between what ears perceive (surround sound) and what eyes see (the performance).
By using everyday objects and movement's rhythmic, jugglery is processed according to a meticulous choreographic score.
He operates by sequences and opts for one or other "musical" element of the work, whose gestural translation takes part in staging sound in what establishes the initial dramatic principle of its installation.
Thus, silent art, jugglery establishes its correspondences network.
"This correspondence starts somewhere in a journey where one's wishes a safe trip to each other, as to make sure of the other one's way in the permanence of its change.
Places, cultures and languages can be recognised and linked up together.
A path grows, between what is said and what remains untold, on a common map.
By reading, writing, thinking, it is often not clear who is reading, writing or thinking. French and German merge in the control or stuttering of their counterpoint.
The dialogue's purpose has transformed into an abstract song, between words, music and the world's murmur, where surprising "correspondence" elements settle in these two lives' nomadism.
Sound images compose a multiple reality from which everyday life is taken out.
Here, the sweet tumult of poetic language finds without rules the way of its expression: music, murmur, words, in free counterpoint.
The correspondence plays with the breath of "modern" society and smaller leaks of reality like so many states of a ceaselessly mobile and furtive matter.
Dramaturgy builds up throughout this game whose Berlin, Paris, other cities, other natural or urban spaces are passed through or residences.
Trains, planes, encounters, e-mails and telephone are the elements of an everyday life, present as topic of a shared world.
But beyond, small "acoustic sculptures" emerge as well and give, for a few seconds, the story of an evoked living form: 100 steps on the crest of a common reality.
The protagonists give in the song of their language in this game. Writing and reading in the other's language also expresses a physical immigration in the other's country." H. Fourès
Henry Fourès _composition and writing
Elisabeth Gutjahr _dramaturgy and writing
Jérôme Thomas _jugglery
Crista Mittelsteiner & Frederic Leidgens _voices
Benat Achiary, Jean-Pierre Caens, Pierre Charial, Claude Crousier, Françoise Jubler, Patrick Moutal et Carlo Rizzo _music
Produced by La Muse en Circuit, National centre of musical creation. With the support of Impuls neue Musik, franco-german fund for contemporary music.
Contact
Prodcution / tour:
morgan.ardit@alamuse.com - +33 1 43 78 80 80
2013
- 23 and 24 September: Musica Festival, Strasbourg
2014
-15 and 16 May: Donaueschingen Festival, Germany