By Walter Ruttmann. Original soundtrack by Simon Fisher Turner
As Dziga Vertov's Man with a Movie Camera (1928), Berlin, Symphony of a Metropolis is considered as one of the most emblematic "city symphony" films from the European cinematographic avant-garde of the late 20's.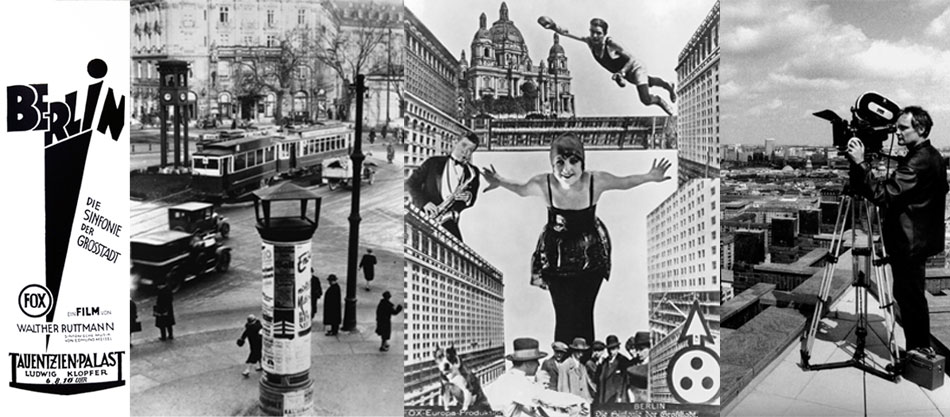 Following the lead of futurism, Walter Ruttmann gives a portrayal of Berlin within one day, from sunrise to sunset. The industrialisation era is in full swing, city modernism has become a trend, the city symphony becomes a cinematographic genre in its own right and its main characters are the railways, the miracle of electricity, the rumbling of automobiles etc. From the whole buzzing city rises and echoes a symphony of new sounds…
Simon Fisher Turner dwelled for a while in Berlin and knows the city well. He made there several field recordings. His music merges jazz, electroacoustic, pop and contemporary music. Through this commissioned work, he finds the opportunity to come back to the source of his inspiration as a composer without forgetting to take into consideration the way the musical dimension of noise evolved until today.
To highlight this idea, he made up a device merging the sound diffusion system of the period with today's creative tools by playing his field recordings on gramophones before processing them live.
Genesis of the project
The origin of this project started with a reflection with musicologist Philippe Langlois on his book Les cloches d'Atlantis, Musique électroacoustique et cinéma archéologie et histoire d'un art sonore (The bells of Atlantis, electroacoustic music and cinema / a sound art archaeology and history) about the way of taking up composition for a silent movie nowadays. The choice was made among a selection of movies that lead, in their conception as well as in the topics they deal with, to a truly musical dimension, if not in the line of Russollo's noise music, which questions the new means of musical and sound creation.
"The century of aircrafts is entitled to its own music" as proclaimed Claude Debussy. That is precisely the essence of Berlin, Symphony of a Metropolis.
Philippe Langlois
New Berlin Symphony by Simon Fisher Turner
Recorded at St Lukes Studio, London 2014
Sounds for musicians recorded by Simon Fisher Turner in Berlin.
Simon Fisher Turner _mac stuff and trumpets
Mixed  in London by James Aparicio
published by Mute song
Klara Lewis _laptop
Rainier Lericolais _laptop
David Sanson _piano
Conception Philippe Langlois
Executive producer: La Muse en Circuit, National centre of musical creation
Co-porducers: Festival Musiques Démesurées – Clermont-Ferrand, Festival Aujourd'hui Musiques du Théâtre de l'Archipel, scène nationale de Perpignan, Festival Why Note / Ici l'onde Dijon, Scènes Croisées de Lozère .
With the support of Centre Georges Pompidou.
Contact:
Morgan Ardit, production / tour manger: 01 43 78 80 80 - morgan.ardit@alamuse.com