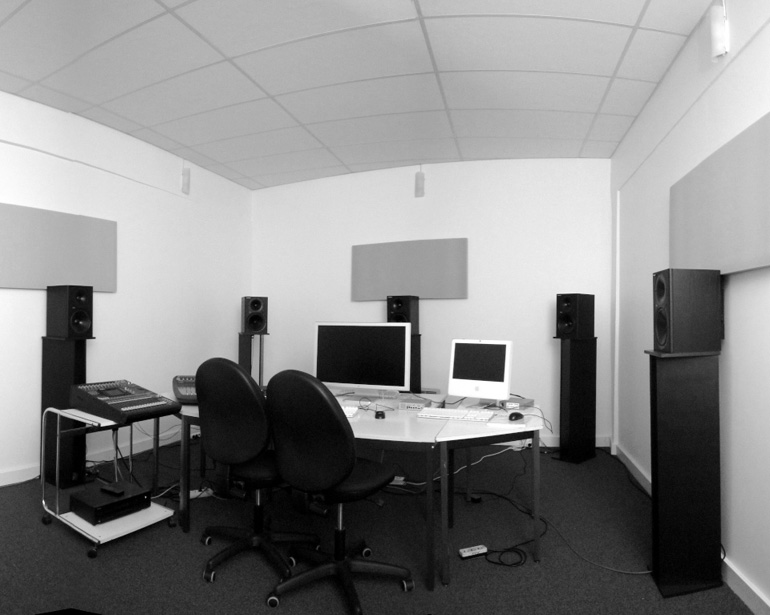 As a testimony of the astounding rise of electronic music in the 20th century, thanks to digital sound synthesis, and our will to support today's and tomorrow's music, the creation studio is equipped with all the tools and technology innovative artists need.
It provides a wide range of reference software products and plug-ins, several interfaces are available and it is equipped with adjustable multiphonic sound system, which allows many possible combinations.
Technical equipment
Hardware
Mac Pro G5
– Quad – Core Intel Xeon processor 2,8 Ghz
– 8 Go RAM
– Magic Mouse + Magic Trackpad
Digi 002 (fader)
RME Fireface 800
Motu 828 MK2
Fatar Grand Touch master keyboard – 88 keys
Software products
Pro Tools LE
Ableton Live 8 + Max for Live
Native instruments Komplete 7 (Reaktor 5.5 / Kontakt 4/ Reflektor / Absynth 5 / Prism /… etc).
Plug Ins
Pack Waves Diamond 8
Pitch'n Time Pro
GRM Tools Evolution
GRM Tools Classic
GRM Tools ST
Ircam Tools Flux
Max MSP
Monitoring
Yamaha 01V96
Speakers Mackie HR 824 + Sub Mackie 1510. Stereo, quadriphonic, 5.1, 6 and octophonic sound possibilities.